FLYER        PRESS 1,  2       PHOTOS (summer)       PHOTOS (fall)      PHOTOS (Winter)      VIDEO                                     
Engl.bersion below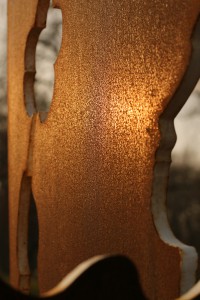 La sculpture "Les Amoureux" a été inaugurée le 14 Juillet 2015 dans la roseraie de Treptower Park.
Cette sculpture constituée de 2 plaques d'acier verticales de 2m de haut fixées à une troisième plaque horizontale de 2,50×1,25m évoque le réseau ou tissu intime, imaginaire et quotidien des promeneurs….
Maya Gomez a réalisé, une rose à la main, avec grâce et poésie une performance dansée pour l'événement.
Commanditaires :
Mairie de l'arrondissement Treptow-Köpernick et la commision des Parcs.
Présentation: Martin Schönfeld, responsable des Arts en espaces publics à la BBK Berlin.
The sculpture "The Lovers" was inaugurated the 14th of July in the Rose garden in Treptower Park in Berlin. This sculpture is made of 2 vertical 2m high steel plates fixed to a third horizontal plate (2,50×1,25m) evokes the intimate fabric, imagination and daily walkers ….
Maya Gomez, a rose in the hand  has realised a dance performance  for the event.
Sponsors: City hall of the Borough Treptow-Köpernick, Parks commission
 
Introduction: Martin Schönefeld ha introduced the art piece.
https://vimeo.com/131186944