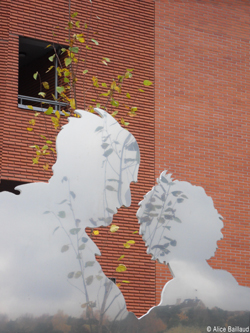 Life cycle is a permanent installation standing front of the new geriatric hospital of Turku and is part of the collection of the modern Museum of Contemporary Art of Turku.
Concept: give an intermediate scale between the new huge red brick building and the smaller human scale. Life Cycle is composed of three sets of giants 3m high silhouettes among 3 birches and high.  
Process of realisation
– the atelier was set up in in a room of the hospital offering a view directly on the roundabout and project site:  it was a place to draw, meet and share with the staff and people I drew.
–  BLOG : Art Dans la Cité has followed the project step by step showing and sharing the drawings , the making of the giant silhouettes  at Ferrum (in Berlin), to their installation and on the roundabout  front of the main entrance of Kaskenlinna, the new geriatric hospital of Turku.
– The 3m high silhouettes were laser cut at  FERRUM. Involved from day one, Peter Groh and his firm have supported the project technically and financially and achieved a remarkable work.
– View the production of the Silhouettes Aarne and Liisa
– VIDEO:  montage by Frédéric Even (ADLC) showing the atmosphere in the atelier of  ferrum.
*International Biennial of Visual Arts in Hospital, Paris : organised by ADLC, this biennial presents 6 projects to an international jury composed of well-known museum directors, art experts, researchers and doctors: Mr. Stéphane Corréard, Mr. Christophe Girard, Madam Anne Marie de Saxcé, Professor Didier Sicard, Madam Valérie Bellinouche (Galerie Charlot) etc.
PRESS:  TV news (Finland) 23-10 / Turun Sanomat 24-10, pages 4 and 16 / WHO, baltic region healthy association / Terveys ja talous, p 36 and 37 
 2- More about the project: competition, proposal, photo-montages etc.
The competition was set up in February 2012  by a french association ADLC  (Art dans la cité) engaged in bringing visual arts in hospital. This project was quite a nice step for me: not only it is a permanent installation but it was the first time that I have put together my knowledge  and sensibility both as a landscape architect and as a visual artist.
– Photo-montages  : initial state, in spring and autom in a few years, in summer in 10 years
– LIFE CYCLE proposal (doc pdf) sent for the competition