I am very happy to invite you to discover Série Désir, my solo exhibition in the gallery Weißer Elefant, located in the famous galleries headquarter of Berlin, in the not less famous Auguststraße…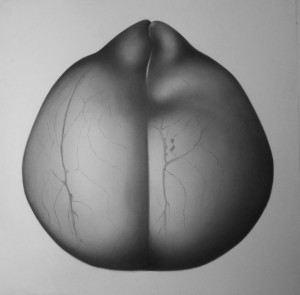 The work:
I have been working on this project for 1 and half year  and did question myself about the link between feminity/sexuality/fertility and the feeling of desire.  I have questionnend myself about how I could lay out and give a shape to this very common and human feeling : desire.
About 50 drawings and monotyps, 3 installations on plexiglass and my first animation were shown.
View the animation "Naissance d'un Désir" 
PRESS and internet links :
- Le petit Journal de Berlin : Porträt des Künstlers und Ausstellungs Série Désir
- Blog "bière-Berlin-et-rocknroll"
- "série désir" in der galerie weisser elefant: Pressemitteilung Nr. 028/2014 vom 21.01.2014
Pressemitteilung Nr. 028/2014 vom 21.01.2014
Die Bezirksstadträtin für Weiterbildung, Kultur, Umwelt und Naturschutz,
Sabine Weißler, informiert:
In der Auguststraße 21, 10117 Berlin eröffnet am
Freitag, 14. Februar 2014, 19 Uhr,
die Ausstellung "série désir" mit Zeichnungen, Objekten, Projektionen von
Alice Baillaud. Ausstellungsdauer: bis Samstag, 15.03.2014, jeweils Di- Sa, 13-19 Uhr.
Der Eintritt ist frei.
Zur Ausstellung:
"Das Begehren (franz.: désir) als Thema einer Ausstellung zu beschreiben, birgt die offensichtliche Gefahr, sich auf diese Emotion einzulassen, die aber von der Künstlerin nicht etwa illustriert wird, sondern selbst die Betrachtungsweise meint, also die künstlerische Intention, nicht deren Inhalt.
aDie Genauigkeit des Blicks von Alice Baillaud ist nicht das erste, was dabei ins Auge fällt, weil die Motive uns so stark anziehen, dass wir ihnen verfallen, unreflektiert. Erst in einem zweiten Schritt bemerken wie die ebenso faszinierende Perfektion der Darstellung, ohne aber zu wissen, was wir eigentlich sehen.
Denn wir unterliegen einer sich immer neu gebärenden Täuschung. Die wahren Auslöser dieser Faszination können ebenso Pflanzen- wie Körperformen sein. Das dabei so erfüllende, beglückende emotionale Moment ist weniger den Motiven verpflichtet als vielmehr unserer Erwartung. [..]" Ralf Bartholomäus
Gäste mit Kommunikations- bzw. Assistenzbedarf melden diesen bitte bis zum 31.01.2014 per Telefon oder E-Mail an mail@galerieweisserelefant.de, Tel.: 28 88 44 54.
Medienkontakt
Bezirksamt Mitte, FB Kunst und Kultur, Bernd Mannhardt, Tel.: (030) 9018-37461.